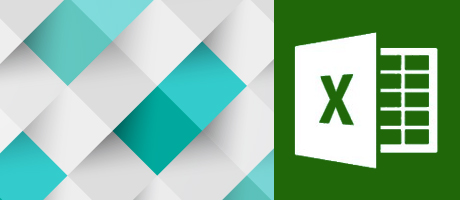 Excel 2016 Mac – Level 2
Essential skills
---
Overview
What does the course cover?
This course builds on the Excel 2016 Level 1 foundations course to teach you how to use the essential tools in Excel. You'll learn V and H lookup, CountIf and SumIf and database functions. You'll work with charts, graphs, filters and lists, import different file formats (like XML data) and track changes in a spreadsheet.
Aims
Why take this course?
This course provides you with solid knowledge in the most important tools in Excel. Once you have finished the course you will know more than most people who are using Excel each day. You'll have powerful skill-set that you can use in building spreadsheets that make you even more efficient in your role.
Audience
Who would benefit?
If you work with Excel on a regular basis there is a huge amount to gain by being confident at this level. There are many features to learn and this course will save you hours and hours of work as you start to make the most of the functionality of Excel 2016 for Mac.
---
Course preview
Each course contains high quality, professional, Video lessons, Downloadable exercise files and Real-world templates for you to use.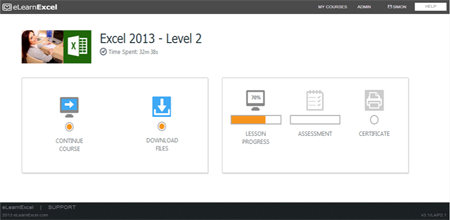 Simple interface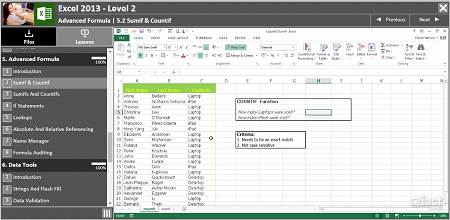 Video lessons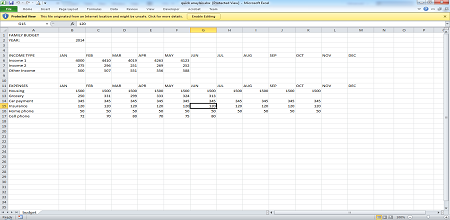 Downloadable files
---
Course detail and sample lessons
Section 1: Advanced Formatting
Section 2: Charts
Section 3: Sparklines
Section 4: Pivot tables and Charts
Section 5: Advanced Formula
Lesson 1: Absolute and Relative Referencing

Lesson 2: Naming a cell

Lesson 3: Naming a range of cells

Lesson 4: Countif & Sumif Functions

Lesson 5: Countifs, Sumifs & Averageifs Functions

Lesson 6: If Statements

Lesson 7: Lookup functions

Lesson 8: Formula auditing

Section 6: Data Tools
Lesson 1: Text to Column

Lesson 2: Data Validation

Lesson 3: Consolidate

Lesson 4: Goal seek

Lesson 5: Scenarios

Lesson 6: Data Table

Section 7: Advanced Reviewing
Lesson 1: Sheet Protection

Lesson 2: Workbook Protection

Lesson 3: Track Changes

Lesson 4: Switch and Arrange workbooks

Section 8: Macros
Lesson 1: Record and Save a Macro

Lesson 2: Run a Macro

Lesson 3: Assign to an icon or a button

Lesson 4: Absolute Vs Relative Macros

Lesson 5: Saving in the Personal Macro Workbook

---
Skills you'll learn
What you'll be able to do after the course
Save and export Excel into different formats
Protect workbooks and worksheets
Import and export XML and CSV files
Work with Vlookup and Hlookup functions
Filter and subtotal lists
Work with named cells and ranges
Use validation in a spreadsheet
How you can apply these skills
What you'll be able to use these skills for
Perform data analysis
Lookup prices or products based on IDs or dates
Create advanced charts
Create charts with trend lines
Understand more complex spreadsheets
Use conditional formatting to highlight key data
Share workbooks with other users
---
Certification
When you pass the exam you will receive an internationally recognised accreditation certificate like this:
---
Careers that require these skills at this level?
Excel is used in practically every business and in nearly all departments in those businesses – ranging from sales to accounting and administration. Any office role will require you to be proficient to this level.
---
Want to start learning today?
Joining is simple, easy and risk free with our 7 day money back guarantee.
---