Excel 2013 – Level 1
Foundation skills
---
Overview
What does the course cover?
This course introduces you to the power of Microsoft Excel starting from the beginning. You'll learn how to open and close files, how to enter formula into a cell, build basic charts and format a spreadsheet. You'll learn how to use the most important features of Excel.
Aims
Why take this course?
If you're new to Excel 2013 or are going to be using Excel in the future, you'll need to understand the fundamentals. This course will provide you with a solid platform from which you can learn. By completing this course, you'll save yourself a lot of time when using Excel.
Audience
Who would benefit?
Anyone needing to learn how to use Excel 2013 or those familiar with other spreadsheet programs but new to Microsoft Excel, or anyone who has not used the product for a period of time. If you're about to start a new role, or are looking for a new position, this course is ideal.
---
Course preview
Each course contains high quality, professional, Video lessons, Downloadable exercise files and Real-world templates for you to use.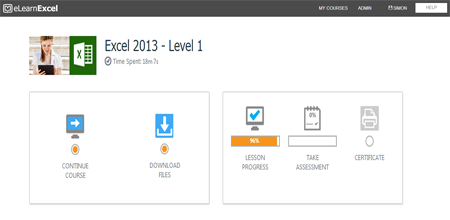 Simple interface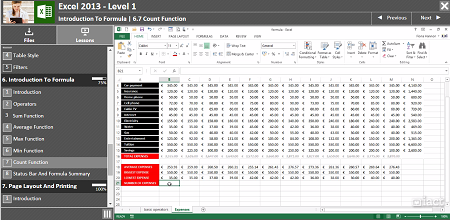 Video lessons
Downloadable content
---
Course detail and sample lessons
Section 1: Introduction To Excel
Lesson 3: Starting From A Blank Workbook

Lesson 4: Exploring The Interface

Lesson 5: The Quick Access Toolbar

Lesson 6: Saving A Workbook

Lesson 7: Closing And Reopening A Saved Workbook

Lesson 7: Start Using A Built In Template

Lesson 8: Exiting Excel

Section 2: Inserting Data
Lesson 3: Formatting The Font

Lesson 4: The Alignment Of Your Text

Lesson 5: Merging And Wrapping Cells

Lesson 6: Inserting And Formatting Numbers

Lesson 7: Inserting And Formatting Dates

Lesson 8: Currency Options

Lesson 9: Clear Options

Lesson 10: Inserting A Picture

Section 3: Rows, Columns & Sheets
Lesson 1: Introduction

Lesson 2: Insert & Delete Rows/Columns

Lesson 3: Change The Widths And Heights

Lesson 4: Hide And Unhide Rows/Columns

Lesson 5: Inserting & Deleting Sheets

Lesson 6: Rename & Move Sheets

Lesson 7: Hide And Unhide Sheets

Section 4: Autofill
Lesson 1: Introduction

Lesson 2: Using Autofill With Text

Lesson 3: Using Autofill With Numbers

Lesson 4: Using Autofill With Dates

Lesson 5: Flash Fill

Section 5: Sorts & Filters
Lesson 1: Introduction

Lesson 2: Sorting Data By One Column

Lesson 3: Sorting Using Multiple Columns

Lesson 4: Table Style

Lesson 5: Filters

Section 6: Introduction To Formula
Lesson 1: Introduction

Lesson 2: Operators

Lesson 3: The Sum Function

Lesson 4: The Average Function

Lesson 5: The Max Function

Lesson 6: The Min Function

Lesson 7: The Count Function

Lesson 8: The Status Bar And Formula Summary

Section 7: Page Layout And Printing
Lesson 1: Introduction

Lesson 2: Scale To Fit

Lesson 3: Margins

Lesson 4: Orientation

Lesson 5: Print Titles

Lesson 6: Print Area

Lesson 7: Print Grid & Headings

Section 8: Basic File Options
Lesson 1: Introduction

Lesson 2: What Is Onedrive

Lesson 3: Saving To Onedrive

Lesson 4: Saving A File As A PDF File

---
Skills you'll learn
What you'll be able to do after the course
Start Excel and understand key terminology
Navigate your way around a spreadsheet
Open, Save and Close workbooks
Select cells, rows and columns
Build simple formulas
Sort and organize data
Import data from other applications
Perform "what-if" analysis
How you can apply these skills
What you'll be able to use these skills for
Create a wide range of powerful spreadsheets
Calculate expenses
Design budgets
Create invoices
Perform sales analysis
Create and enhance interesting charts
Print and export into presentations
Use Excel to complete previously manual tasks
---
Certification
When you pass you will receive an internationally recognized accreditation certificate like this: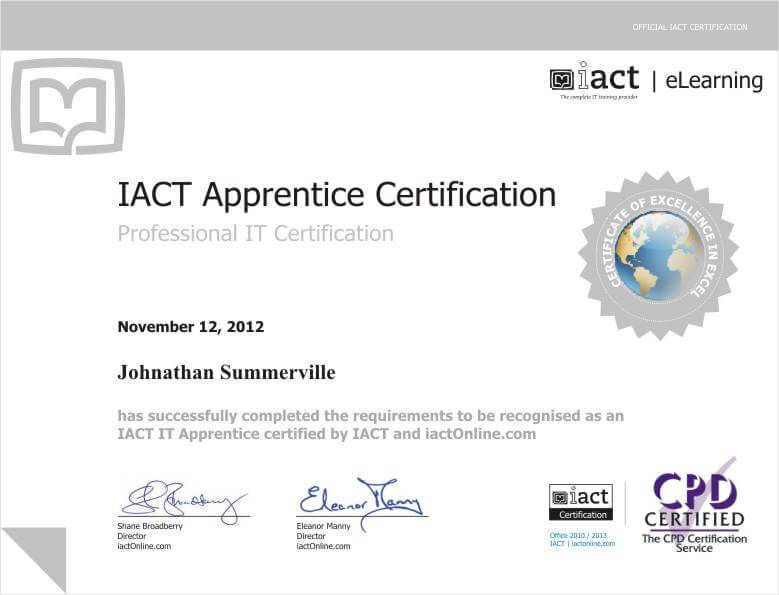 ---
What's next?
Upon completion, you can move onto Excel 2013 – Level 2. After you have completed the two levels you will be ready to take iactonline's Expert and Specialist courses in Excel for advanced Certification and for preparation for the Microsoft Certification exams.
---
Careers that require these skills at this level?
Excel is used in practically every business and in nearly all departments in those businesses – ranging from sales to accounting and administration. Any office role will require you to be proficient to this level.
---
Want to start learning today?
Joining is simple, easy and risk free with our 7 day money back guarantee.
---